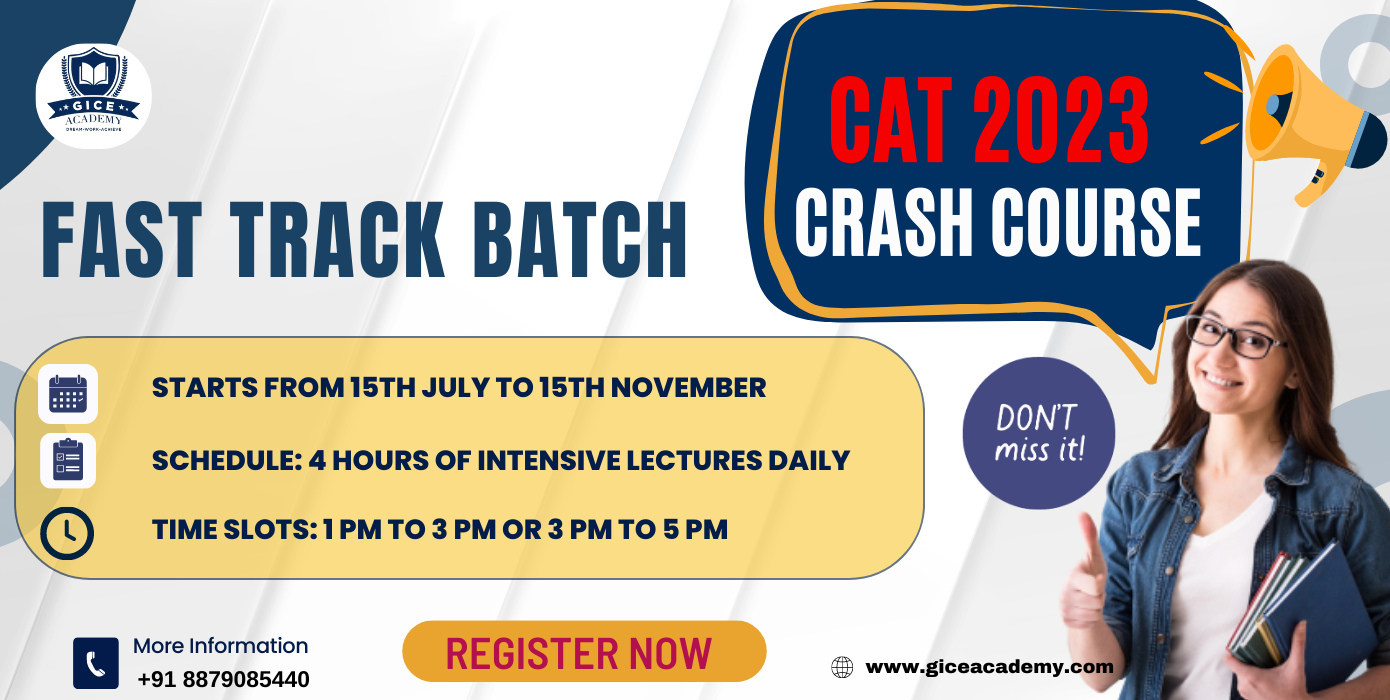 Are you aspiring to crack the CAT exam 2023 and secure admission into a prestigious MBA program? Look no further! GICE Academy brings you the Fast Track Batch CAT coaching classes in Thane, starting from 15th July.
Duration: 15th July to 15th November
Schedule: 4 hours of intensive lectures daily 
Timing Options: Choose between 1 PM to 3 PM or 3 PM to 5 PM
Our Fast Track Batch is designed to help you fast-track your CAT preparation journey and enhance your chances of success. With our expert faculty and comprehensive curriculum, we ensure that you receive the best guidance and support to ace the CAT exam.
Why choose GICE Academy's Fast Track Batch for CAT coaching classes in Thane?
Accelerated Learning: Cover extensive CAT syllabus within a shorter timeframe, allowing you to focus on key concepts and practice effectively.
 Experienced Faculty: Learn from experienced and highly qualified faculty members who have a proven track record of guiding students to excel in the CAT exam.
Personalized Attention: Benefit from small batch sizes, enabling our faculty to provide individual attention, address doubts, and track your progress effectively.
Comprehensive Study Material: Gain access to well-curated study materials, practice papers, and mock tests to familiarize yourself with the CAT exam pattern.
Performance Analysis: Receive regular feedback on your performance through assessments, mock tests, and personalized guidance to identify areas of improvement.
Enroll in GICE Academy's Fast Track Batch for CAT coaching classes in Thane and give yourself a competitive edge in the CAT exam. Don't miss this opportunity to accelerate your CAT preparation journey and secure admission into your dream MBA program. Limited seats are available, so contact us now and embark on your path to success!