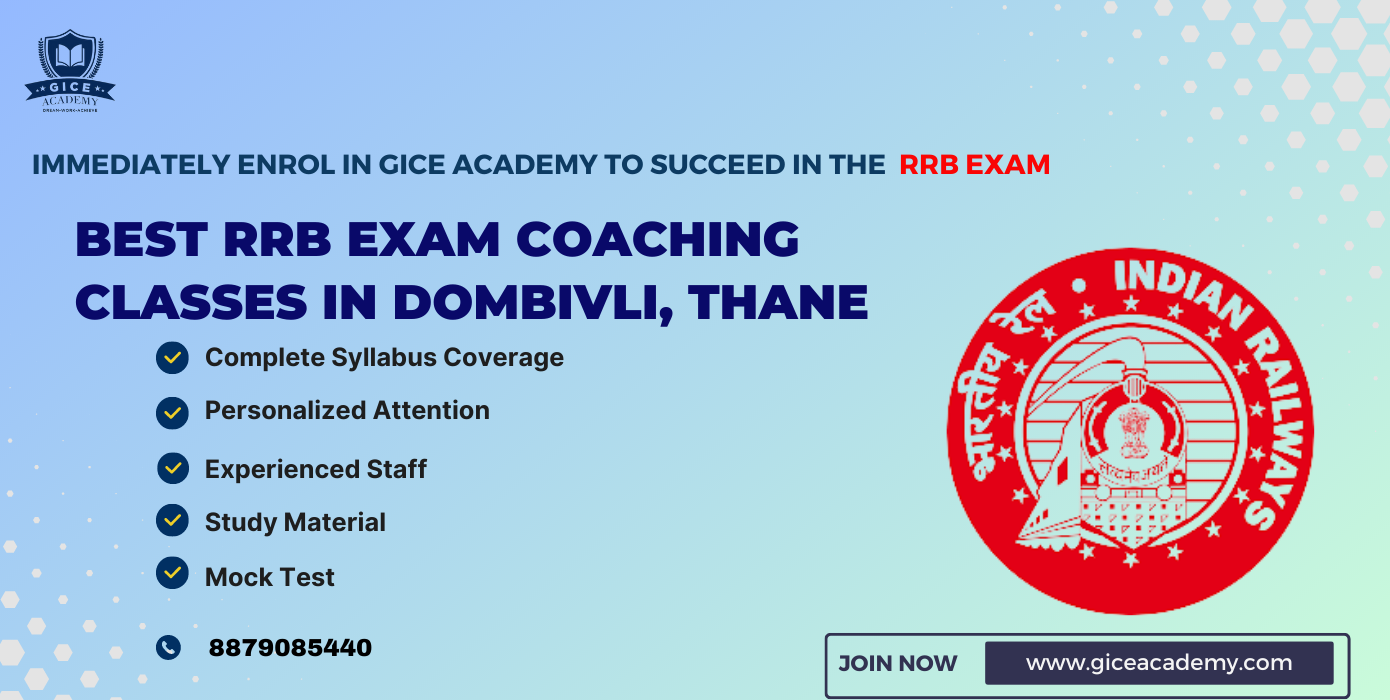 Best RRB Entrance Exam Coaching Classes in Dombivli, Thane
Why Join
Gice Academy is the Best RRB Entrance Exam Coaching Classes in Dombivli,Thane for those students who wish to have a career in the government services of the country and Maharashtra.
In our institute, we have highly qualified instructors and coaches for Railway Coaching Classes in Dombivli.
To ensure that every student succeeds in realising their dreams, instructors are urged to use a method focused on results when teaching. We give all of our pupils' responsibilities until the point of selection.
To find the best people to work in the various units of the railway department, the RRB exams are held all over the nation. The hiring process is based on the requirements. An approved board known as the railway recruitment board administers the exam. They need to make sure the exams are efficiently organised. An interview plus a written test make up the examination.
RRB Entrance Exam-The RRB Group D test is administered in four stages: the Computer-Based Test (CBT), the Physical Efficiency Test (PET), the Document Verification Stage, and the Medical Fitness Stage. For eligible PwD candidates who are accompanied by a scribe, the exam lasts 120 minutes (vs 90 minutes for general category candidates). Arithmetic, general science, general awareness of current events, and general intelligence and reasoning make up the bulk of this exam. A total number of questions asked in the exam is 100. A applicant must then take the Physical Efficiency Test, document verification, and a medical fitness test before moving on.
On behalf of the Railway Recruitment Cells (RRC), the RRBs will be holding a national exam for RRB Recruitment in 2023. The Railway Recruitment Boards (RRBs) and Railway Recruitment Cells (RRCs) are in charge of handling railway recruitment. RRBs have the authority to fill all Group C (Technical and Non-Technical) positions through recruitment. The task of holding exams for Group D recruitment is delegated to RRCs. There are 16 RRCs and 21 RRBs altogether. The Railways receives millions of applications for the available positions.
Although the specific eligibility for different exams may vary according to their notification, there are some common factors which are enlisted below:
| | |
| --- | --- |
| Particulars | Details |
| Educational qualifications | Under Graduate Degree in the field of the vacancy department |
| Nationality | Indian |
| Age | 18-36 |
| Medical Standards | As specified in the notification, varies for different departments |
| Domicile | Not of importance |
Submit Your Query
Have a Query? Send it to us.