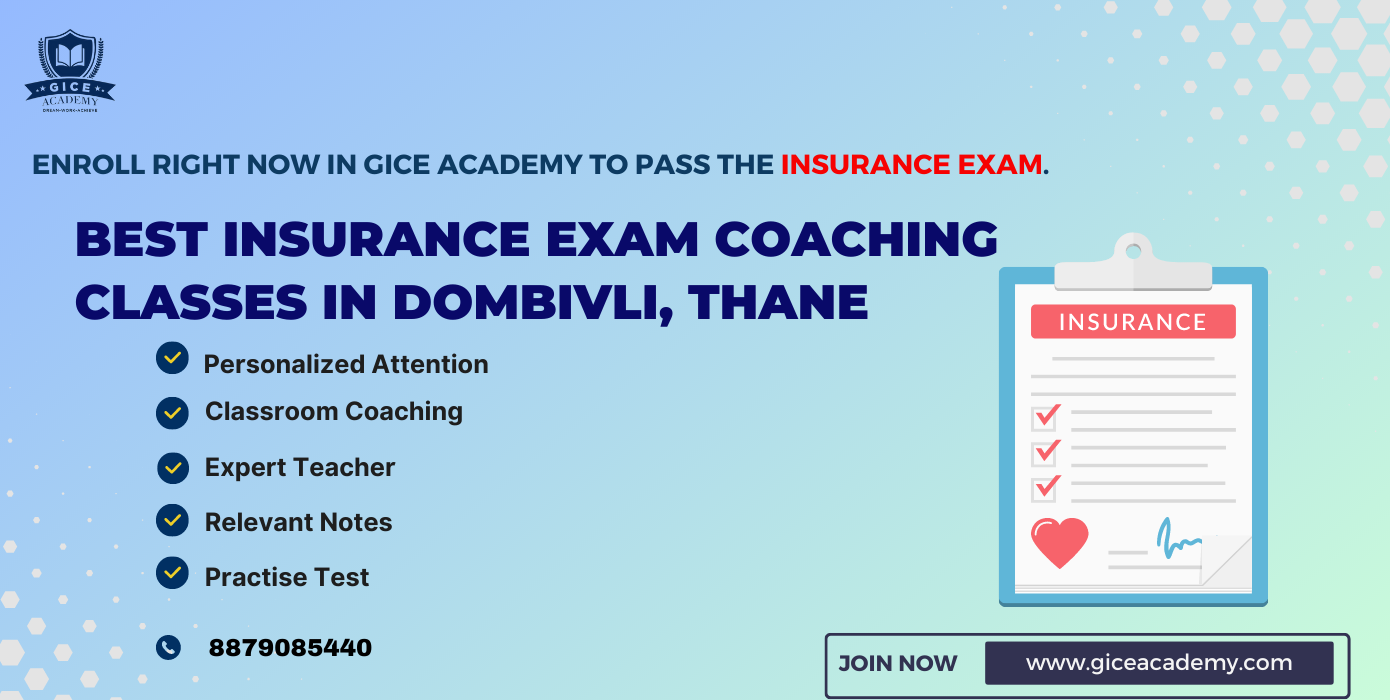 Best Insurance Exam Coaching Classes in Dombivli, Thane
Why Join
In India, exams are held for a variety of positions in the insurance industry. One of the largest employers in India over the past two decades, the insurance industry has been able to maximise its benefits.
The primary organisation in charge of fostering the expansion of the Indian insurance sector is called IRDA, or Insurance Regulatory and Development Authority. In India, insurance tests are held on a regular basis, and candidates from all over the nation wait for the recruitment to take place.
Insurance companies are divided into two parts:
 Life Insurance Companies
 Non-Life Insurance Company
Businesses that provide life insurance provide coverage for people's lives, whereas non-life insurance providers provide coverage for our daily lives, such as travel, health, automobile and bike insurance, and home insurance.
Insurance Exams in India-
LIC- Life Insurance Corporation of India

NIACL- New India Assurance Company Limited 

NICL- National Insurance Company Limited

 OICL- Oriental Insurance Company Limited 

UIIC- United India Insurance Company 

IRDA- Insurance Regulatory and Development Authority of India
1.LIC AAO-
LIC The Life Insurance Corporation of India is referred to as AAO LIC. One of the most significant insurance providers in our nation for a very long time is LIC. A lot of people frequently associate the services of this incredibly well-known business with life insurance. 
And yes, LIC has long held the title of largest insurance provider in India.
Vacancy-
It is advised to regularly check the exam's official website for announcements regarding things like exam dates and job openings. The number of LIC AAO openings for this year is somewhere around 218.Yet, the various candidate categories are included in this total and, in accordance with the laws and regulations of the governing body, each owns a specific number of open seats. To get a thorough breakdown of the numbers for each sort of category, visit the website.
Eligibility Criteria-
The age limit for the LIC AAO 2023 exam will be calculated as on 1st January 2023, check out the minimum and maximum age limits from the previous cycle: Minimum Age: 21 years Maximum Age: 30 years.
The educational qualifications for the post of AAO (Generalist) is that the candidates must have Bachelor's degree in any discipline from any recognized Indian University/ Institution.
2. LIC ADO-
LIC ADO refers to the LIC Apprentice Development Officer. Like the other ones, it is also a popular examination with interesting designations you probably want.
Vacancy-
Always check the exam's official website to see if there are any openings. There are currently 8,581 openings for this year, though. However, other types of candidates, such as the reserved candidates, receive varied amounts of seats. To learn more about them, visit the website. Speak to reputable organisations providing the top LIC tutoring in India for further information to help you understand.
Eligibility Criteria-
The age limit for LIC Apprentice Development Officers is set from a minimum age of 21 years to a maximum age limit of 30 years. Candidates must meet the minimum age criteria to be eligible for the LIC Apprentice Development Officer post. Apart from this, there is age relaxation for the upper age limit.
3.LIC Assistance-
The LIC assistant is a general examination conducted by LIC that targets to get assistant officers. This examination is largely conducted in the online mode.
Vacancy-
The LIC Assistant has not yet received any updates. All you have to do in this regard is visit the website and periodically check for updates. The LIC Assistant post notices should arrive quite shortly.
Eligibility Criteria-
 LIC Assistant recruitment must be at least 18 years of age and not be more than 30 years as per the LIC Assistant eligibility criteria. Bachelor's degree (10+2+3) in any discipline from a recognized institution or university in India
4.NICL AO-
Another industry behemoth in this nation is NICL. National Insurance Company Limited is its full name. The NICL Assistant Officer position is meant by this post.
Vacancy-
Before you discuss the positions in more detail, don't forget to speak with the instructors at the best LIC coaching facilities because they are aware that many people mistake LIC for NICL and think the former is better and more prestigious.
But, don't forget to check the website.
Eligibility Criteria-
The applicant must be a resident of Bhutan, Nepal, or India. He or she must be between the ages of 21 and 30. A graduate or postgraduate degree from an accredited university is required. For general and OBC candidates, you need 60% of your marks. SC/ST candidates must receive 55% of the possible points to sit for this exam.
5.OICL-
Oriental Insurance Company Limited is known as OICL. It was a government-run insurance company in India.
Vacancy-
Numerous openings were announced in the year (2020). In that year, there were 300 open positions. Such notifications have not been made public this year. You must, however, continue to check the official website for updates.
Eligibility Criteria-
The applicant must have been born between August 1, 1990, and July 31, 1999. The educational requirements vary depending on the position you're aiming for. As follows: Generalist: You must have graduated from an accredited university with a minimum GPA of 60%. If you are a candidate from a protected category, you may still submit an application with a score of 55%. Doctor: Bachelor of Medicine and Bachelor of Surgery (MBBS) is perfectly acceptable. Legal officer: An LLB or bachelor's degree in law will do. Accounts: You can earn an M. Com., an MBA in Finance, or become a certified cost and management accountant by passing the ICWAI Exam. Automobile engineers: Graduate or postgraduate standing in the field with a minimum of 60% (or 55% for reserved categories) is acceptable.
Submit Your Query
Have a Query? Send it to us.
Insurance Exam Updates
News