Best MBA CET Coaching Classes in Dombivli, Thane​
Why Join
Gice Academy is the most reputable MBA CET preparation coaching center in Dombivli, Thane. We offer high-quality MBA CET preparation materials that are well-designed. Through a unique testing technique and personalised teaching, we aim to provide the best MBA CET Preparation Coaching in Thane.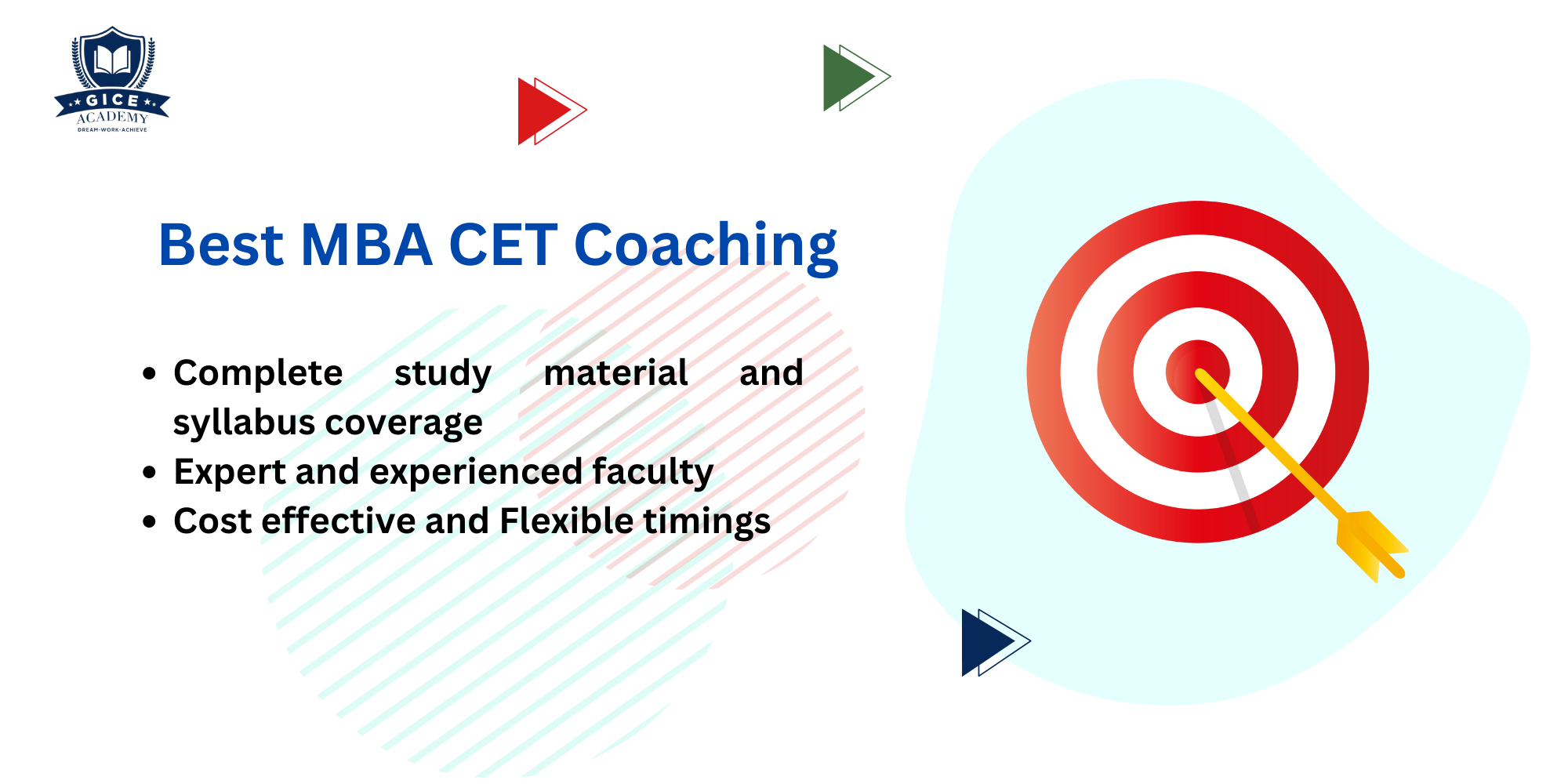 The Maharashtra Common Entrance Test, or MAH CET, is a management entrance exam. The MAH MBA/MMS-CET exam, which is held by the State Common Entrance Test Cell, Maharashtra, is required for admission to MBA courses at several universities around the state.
Following the MAH CET MBA exam, candidates will be assigned MBA seats in MAH CET participating universities based on their scores via the Centralized Admission Process (CAP) or Counseling. Candidates can engage in MAH CET MBA counseling directly for admission to MAH CET member universities if they have valid results in the CAT, GMAT, CMAT, MAT, XAT, or ATMA.
Benefits of doing MBA – CET
It leads to admission in various UGC approved MBA/MMS and AICTE approved PGDM courses in about 300+ MBA colleges across the state of Maharashtra.
Benefits of our Coaching Program:
Our MBA CET courses offer a
Comprehensive syllabus covering
Best-rated MBA CET Test Series
Sectional and topic tests
Interview and GD practice
one-on-one coaching,
extensive study material
additional strategy sessions
Dedicated doubt-clearing classes
Competitive exams held for MBA
CAT – Common Admission Test (CAT) is an all-India entrance test administered by IIMs. The Indian Institutes of Management (IIMs) started this exam and is a pre-requisite for accepting students for their business management programs. This computer-based test is managed by the Indian Institutes of Management for admission to their 2-year full-time postgraduate programs in management. Other Indian business schools like IITs, FMS, S P Jain, MDI, and NITIE also accept CAT scores as part of their selection process.  became a computer-based examination wherein subjects are parted into different areas i.e.: Quantitative Ability, Data Interpretation, Data Sufficiency, Logical Reasoning, Reading Comprehension, Verbal Reasoning, and Verbal Ability. 
CET – Maharashtra Common Entrance Test or MAH CET is a computer-based management entrance test. Officially known as MAH MBA/MMS-CET, the exam is conducted by the State Common Entrance Test Cell, Maharashtra, for admission to MBA courses in various institutes in the state of Maharashtra. The syllabus of MAH MBA CET exam includes – Logical Reasoning, Abstract Reasoning, Quantitative Aptitude, and Verbal Ability & Reading Comprehension. 
CMAT – Common Management Admission Test (CMAT) is an aptitude test conducted by the National Testing Agency (NTA) for admission to MBA/PGDM courses at many B-Schools across India. The CMAT question paper consists of 100 questions from Quantitative Techniques & Data Interpretation, Logical Reasoning, Language Comprehension, and General Awareness. The new section, Innovation, and Entrepreneurship is an optional section carrying 25 questions. The total mark of CMAT is 500. CMAT is conducted in Computer Based Test (CBT) mode and the duration of the exam is three hours.
XAT – XAT (Xavier Aptitude Test) is a national-level management entrance examination conducted by XLRI, Jamshedpur for admission to MBA/PGDM programs. Apart from XLRI and 10 other XAMI members, over 1,000 B-schools accept XAT scores for admission to their post-graduate management programs. The XAT question paper consists of 100 Multiple Choice Questions (MCQs) from Decision Making, Verbal & Logical Ability, Quantitative Ability & Data Interpretation, and General Knowledge. XAT exam is conducted on the first Sunday of every January. XAT cut-offs for XLRI's PGDM-BM program are usually around 95 percentile for male candidates and 92 percentile for female candidates.
Latest Updates: More exams like, SNAP, NMAT are held by autonomous institutes in India. 
For more details Please call – 7400244518
GICE Academy is the Best MBA CET Coaching Classes in Thane, with four years of teaching experience.
We constantly work hard to train our instructors on the most recent syllabuses and to prepare our students for success in their exams.
With our ongoing efforts to provide the highest possible standard of education to our students, we have successfully maintained our position as The Top Institute for MBA CET in Thane.
With our help and their hard work, students from our institute were able to gain admission to some of the best MBA programs in Mumbai and receive their dream salary; we constantly encourage them to obtain the top position.
 
Submit Your Query
Have a Query? Send it to us.