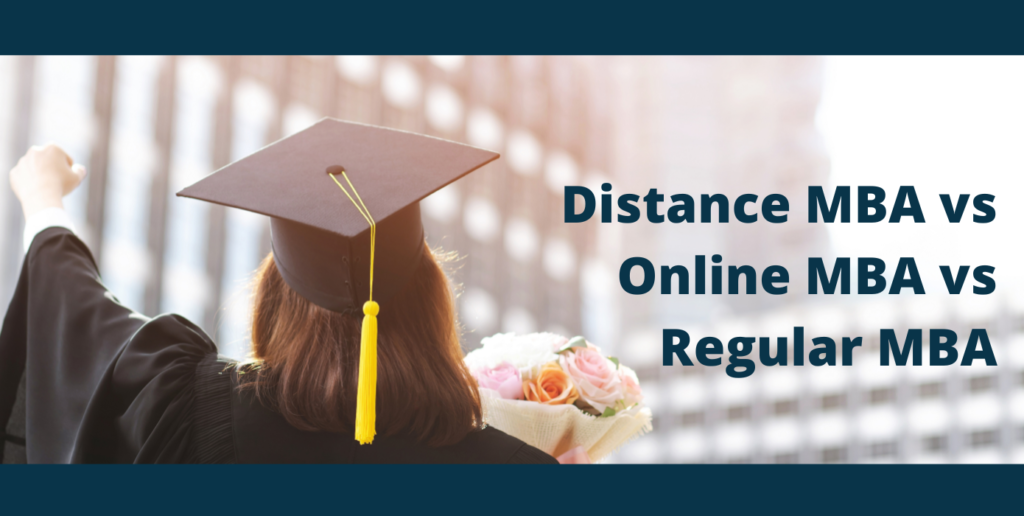 Today we will talk about distance MBA vs regular MBA through this post. At the same time, we will know how these two are different from each other. At the end of the article, you will have answers to all these questions. So let's move ahead without further delay.
In today's modern times, whatever the field, you will get to see the competition. And when it comes to taking admission to the best college, then you can see how year after year students take admission an MBA to make their career. Today the value of every single minute is increasing rapidly, and even today's students cannot stop themselves from being trapped by it.
In today's time, everyone has access to the internet. And everyone knows in which field they want to make their career and what is the source for that, this is also known to the students.
MBA can be done in two ways:
First distance MBA and second online MBA.
Distance MBAs MBA and Online MBAs give you this opportunity in which you can get employment at the same time and at the same time you can complete your studies. It completely depends on the free will of the student which one he/she chooses.
Regular MBA and Distance / Online MBA is a degree of 2 years duration. Both these courses are of equal importance. Many times there is a lot of confusion among students that online degrees are less recognized and regular degrees are more. But it is not so.
Both are valid from Grant's side.
Worldwide there are many types of MBA programs. It should be the endeavor of the student to know in depth how all these are different from each other. And which one would be better for the student?
Let's know how it is different from each other.
Distance MBA vs Online MBA vs Regular MBA
s.no
Characteristics
Online MBA
Distance MBA
FULL-TIME MBA
1.
Delivery of
program
Assignments, classes Projects all are online
Study material is sent by post and exams are online conducted
Regular classroom
Study with a fixed schedule Offline exams
2.
Curriculum
The curriculum is the same as regular.
Theoretical and practical
Everything is virtually
Curriculum Concise
Theoretical/ practical
3.
Principal of
teaching
Flexible teaching/learning environment Flexibility for attending class Assignment/projects online.
Fixed schedule Offline exam Online submission of assignments
Fixes and strict schedule
MBA Regular MBA In India Distance Learning
We already know how there is the slightest difference between in regular MBA and a distance MBA. let's first talk about how distance learning started in India. And what's the future of distance learning in India today?
The emergence of the distance education system in India started in 1962 at Delhi University in the form of a correspondence education program. Which the educational use of radio had started. The distance education system was born in the form of correspondence education in 1965 at the secondary level. The success of the correspondence program started by Delhi University attracted the attention of educationists in the country. The Kothari Commission formed in 1964 also highlighted its need in its report. The first Open University in India was established in Andhra Pradesh in 1982 given the success of the use being run at Delhi University. Earlier, between 1970 and 1980, separate institutes and directorates for correspondence education were started in many universities, due to which the popularity of distance education grew.
After the success of these institutions, the demand for the establishment of open universities in various states started increasing and scholars felt that the development of distance education would increase the number of skilled manpower in our country. Due to the emergence of all these types of ideas, in 1985 the Government of India established the Indira Gandhi National Open University. The main objective of this university is to establish a paradigm for the development of an open and distance education system and to provide convenient opportunities for providing affordable higher education to more and more people because at that time many people were deprived of higher education due to various reasons. . Therefore, this university was established to provide higher education to all such persons. The functions and powers given to this university also include responsibilities of great importance such as guiding in the establishment and development of open universities, coordinating the upgraded of acceptance education system providing assistance to other open universities and educational institutions.
MBA As A Distance Learning In India
MBA is the most popular degree in India after the post-graduate degree program in India. There is a lack of students taking admission each year. The demand for degrees is increasing day by day.
List Of 20 Top MBA Distance Education Universities In India
| | |
| --- | --- |
| Symbiosis Centre of Distance Learning, Pune | Offers Post Graduate Diploma, Diploma, and Certificate programs in Business Management, International Business, Banking and Finance, Supply Chain Management, Customer Relationship Management, and a wide range of industry sectors. |
| Indira Gandhi National Open University, New Delhi | Was established in 1985, and is currently serving more than 3.7 million students worldwide. MBA in Distance Education in India Considered the best for |
| ICFAI Business School, Hyderabad | MBA offers degree programs. Which is divided into 5 modules. The third module consists of elective subjects. Students have to choose one option from the 16 elective subjects available. |
| Institute of Management Technology Centre for Distance Learning | IMT offers a wide spectrum of CDL, Management, and Information Technology programs. |
| Sikkim Manipal University, Sikkim – SMUDE | Certified University. And provides Distance education programs in many subjects. |
MBA vs Online MBA vs Regular MBA
How to choose an MBA Program Exam
Which MBA is right for you depends on what you want and in which specialization you want to go. Many more such questions. You get the option to choose MBA as an elective. The student should consider the ideal concentration, program culture, and delivery format.
Before applying for many programs, the student should thoroughly study the branches of an MBA and the things related to it. After knowing all these things, the student can make sure what is right or wrong for him.
Many Programs in MBA Traditionally, Finance, Marketing, HR, Operations, and Entrepreneurship are some of the most sought-after and best MBA specializations and all of them are considered by students to be great options to choose from.
MBA is a very popular course. Which the student can do after his graduation. MBA is a course that makes you a financial expert and gives you all the ingredients and strategies needed to manage money and run a company smoothly.
How to choose an MBA program: MBA is a very broad program in which you can see many variations. Students can choose an MBA course according to t their wishes time. We've seen how much variety and flexibility you get in all programs.
While the curriculum remains the same for MBA programs in all business schools, it is important to note extra-curricular activities such as student exchange programs, industry visits, internships, and business competitions.
Sale And Purchase:
If you are a master of words and have the power for conveying your message well with your spoken words, then a degree in Sales and Procurement Marketing is the best option for your MBA program. With a degree, you can prepare for a variety of careers in branding, advertising, market research, strategy, or product management.
Common courses for this degree include global marketing strategies, strategic market planning, digital marketing, market analysis, product research techniques, etc.
Finance:
MBA students who want to make a career in finance or banking, those students need have rip on investments and numbers. MBA stream is suitable for roles like investment banking, financial analysis, finance officer, etc. in finance and banking institutions. provides opportunities.
International Business: This is a good option if you want to set up your career outside the borders of your country. You will get to learn many things during the course. In this, you will learn to become a business expert and for this, you will know how to export and import from other countries and many other such things.
Alumni Network:
The alumni network of a B-school is one of the most important factors to look at while selecting an MBA program. It represents the strength of a business school and its reputation through the overall success of its alumni. You need to find answers to certain questions that will help you find a suitable MBA program. Alumni networks can also help you with good job placement, networking, and more.
Human Resource:
This will help you in many ways to make sure which program is right for you. This one is very popular among the students. In which you will learn that you can find the best human resources for the company.
FAQ
What is the duration of a Distance MBA and a Regular MBA?
The duration of the distance MBA and regular MBA is for 2 years and it is divided into 4 mini semesters.
Is there any exam conducted for admission to an MBA?
Yes to take admission to MBA. You have to go through an entrance exam. Some of the popular entrance exams are CAT, XAT, IIFT, NMAT, SNAP, TISSNET, CMAT, MAT, IBSAT, and GMAT.
What is the fee for a Regular MBA and a distance MBA?
There is much difference between the fee of a regular MBA and a distance MBA. The fee for a regular MBA is Rs. 15-20 lakhs, and the fee for Distance MBA is around Rs.1 lakh only.