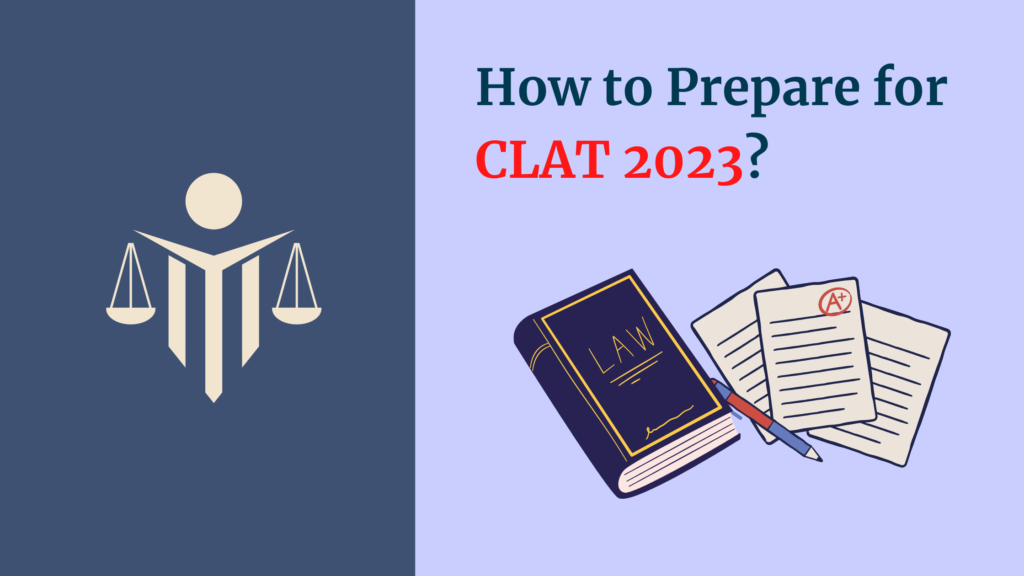 How to Prepare for CLAT 2023?
Time prioritisation is more crucial than time management for the CLAT Exam because every minute of the test will determine your score and the college you will attend. So, setting priorities wisely is essential if you want to get into the college of your dreams. There is a widespread belief that there is not enough time for studying during exams. However, organising your study time will help you approach it intelligently and perform well on the approaching test. Let's discuss how creating a to-do list and setting priorities might improve your planning.
Do you want to know how to prepare for CLAT 2023? In order to improve your level of preparation and perform well on the upcoming exam, follow the advice in this blog.
CLAT Preparation Tips
To pass the CLAT 2023 examinations, students must stick to a study plan as well as a daily routine. Here are some fundamental pointers to help students get ready for the CLAT exams:
Begin Early: Candidates who get a head start on the CLAT course have plenty of time to complete it. Those who desire to study law can begin preparing for the CLAT exam in 2023 as early as class 11. You can learn more deeply and practise more diligently if you have enough time.
Purchase the best study guides: Candidates should purchase the ideal study guides for the CLAT 2023 tests. These books will help students grasp the concept in simple terms.
Solve CLAT practice tests, past exams, and mock exams: Candidates who take practice examinations acquire a good experience for the real thing. You can evaluate your preparation using the CLAT practice test books, and you can also choose which section needs further work.
Recognize your strengths and weaknesses: It would be easier for you to identify your skills and weaknesses if you practise mock exams and sample papers. Candidates need to practise regularly on their strong areas while concentrating more on their weak areas.
Master time management techniques: The candidates' speed will certainly improve with practise and successful completion of test series and mock exams. They will also gain a good understanding of which area to begin with. This will allow them to finish the CLAT exam on time and improve their chances of passing the exams.
CLAT Preparation Strategy 2023
The majority of you may find it challenging to study for the CLAT exam due to the rising level of competition. But if you follow a well-organised CLAT Preparation Strategy and plan, it's simple to ace the test.
Since your preparation tactics may differ, it is a misconception that sticking to a single schedule can help you get good outcomes.
As a result, we advise you to plan your schedule according to your ease and the amount of time you can devote to studying.
Making a task list with 5 to 7 tasks per day is always advised instead of scheduling 7-8 hours per day.
You must plan your daily studies in writing so that you don't forget anything.
Do not merely list the subject to be studied on a certain day; be specific. Instead, try to jot down the subject name, followed by the title of the book, and the page number.
Write down the assignment numbers if you are studying using study guides.
Strike out after finishing each topic or project as this will keep you motivated and boost your confidence.
When Should I Begin CLAT Preparation 2023?
Many of you may be concerned about a variety of things, including how to prepare for CLAT 2023 and when is the best time to do so. Well, we're here to answer your questions.
According to the expert's advice, you must be sure to begin your study at least five or six months before the CLAT exam.
Starting early will provide you more time for revision, practise with previous year's CLAT exam papers, and adequate preparation time.
What was your CLAT score and how did you get it?
Additionally, it will give you a good sense of where you are making problems and how to correct them.
Distribution of the CLAT 2023 Syllabus & Marks
| | | |
| --- | --- | --- |
| Subjects | Number of questions | Marks |
| English Language | 28-32 questions | 28 – 32 |
| Current Affairs, including General Knowledge | 35-39 questions | 35 – 39 |
| Legal Reasoning | 35-39 questions | 35 – 39 |
| Logical Reasoning | 28-32 questions | 28 – 32 |
| Quantitative Techniques | 13-17 questions | 13 – 17 |
| Total | 150 | 150 |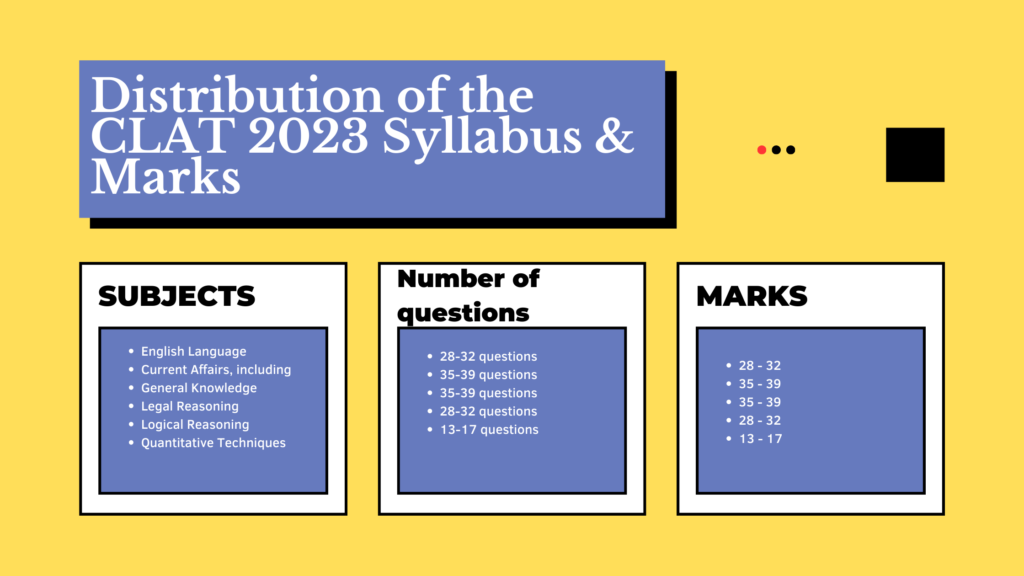 Important CLAT 2023 Study Topics
| | |
| --- | --- |
| Subjects | Topics |
| English | GrammarVocabularyAntonyms and synonymsAdverb & proverbsOne-word substitutionEnglish comprehension |
| Quantitative Techniques | PercentageAlgebraAreas mensurationNumber systemsTime, speed and distanceAverageWork and timeProfit and lossProbabilityStatistical estimationMensurationRatios and proportions |
| Current affairs and general knowledge | Contemporary events and significance of India and the worldArts and cultureInternational affairsHistorical events of continuing significance |
| Legal aptitude | History of Indian constitutionImportant acts and amendmentsImportant laws like IPC, CrPC, law of torts, etcPrepositions and factsImportant events related to legal and constitutional developmentsRights and DutiesJudiciary – Supreme Court and High CourtParliament – Executive, Legislature, PresidentCurrent events related to Indian polity. |
| Logical Reasoning | Analogies, Series,Seating arrangementSyllogismsBlood relationsLogical sequences and matchingCalendars and clocks |
GICE Academy – Helping Students Prepare for Competitive Exams
Worried about how to Prepare for Competitive Exams ? GICE Academy is the top choice of students because it is well-equipped and has professionals trained in the numerous disciplines that students need to prepare for. Well-researched study material, the nearest possible mock exam, and complete online resources makes GICE the top pick of students.
GICE Academy's experts will work with you to establish a study schedule, identify your areas of strength and weakness, and pinpoint your issues so you can efficiently and methodically tackle them. Lastly, because of the high quality of our training programmes, we can ensure our students' success.
Over time, GICE Academy has established itself as one of the top CLAT coaching classes in Thane, with a high success rate.