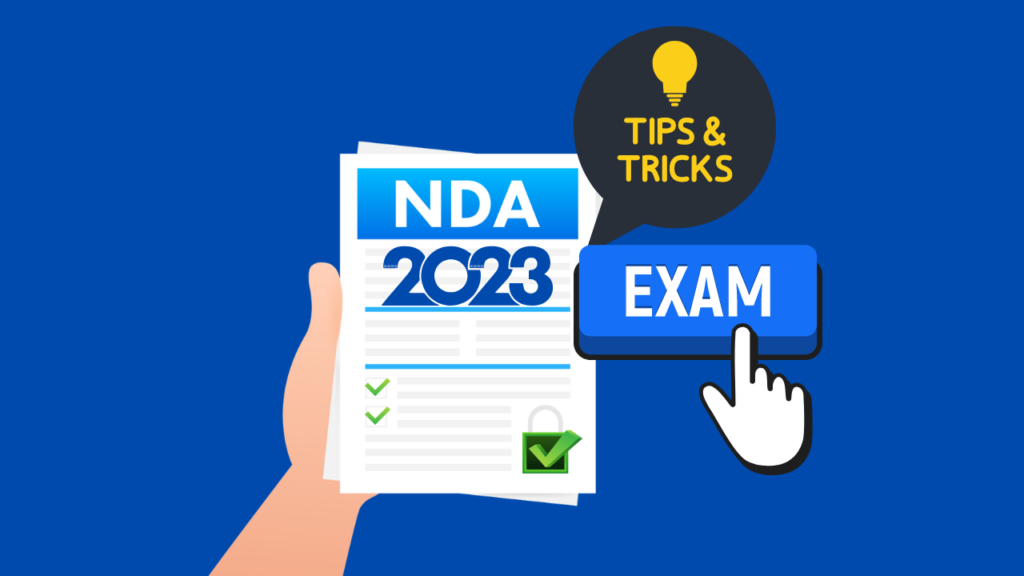 How to crack the NDA exam 2023 in the first attempt?
How to Prepare for NDA 2023 – The Union Public Service Commission (UPSC) is in charge of holding the NDA exam. The NDA 1 2023 exam will take place on April 16, 2023. The NDA 2 exam for 2023 will be conducted on September 3rd. Candidates should check the UPSC website for further information regarding the NDA 2023 exam dates.
Candidates who are interested in taking the NDA exam should be aware of these things and more. Those who applied for the NDA 2023 exam must begin preparing right away to prevent stress and anxiety at the very last minute. Check out the article below to learn details about how to prepare for NDA 2023.
NDA Preparation Tips
Candidates planning to take the NDA exam for the very first time may be considering things like how to study for the NDA exam in 2023, where to start studying, which NDA books to read, what study resources to use for the NDA exam, whether or not to take coaching, and more. The majority of the problems with the NDA 2023 preparation strategy and procedure will be solved by this article. Read the NDA Preparation Tips below to find out how to prepare for NDA 2023.
1. Exam Pattern Knowledge
Candidates should be familiar with the NDA exam 2023 format before beginning their NDA preparation 2023. Look at the table below.
Exam pattern for NDA 2023
Subjects
Number of questions
Marks
Duration
mathematics
120
300
2 hrs 30 mins for each paper
General ability test
150
600
Note: Each incorrect answer receives a 1/3 deduction in points.
2.Understanding the syllabus
Candidates should be familiar with both the NDA 2023 exam pattern and the NDA 2023 written exam syllabus. The NDA written exam contains two topics: general ability test and mathematics. The NDA exam questions are based on these subjects.
3.What Reference Material To Use
Candidates should make it a habit to read the news and books because doing so will allow them to build their grammatical skills, keep up with current events and advancements, and broaden their general knowledge. Additionally, candidates are cautioned against referring to an excessive number of books because doing so will just confuse them. For NDA 2023 preparation, it is suggested that they only consult the best and most widely used books and attempt to complete however many sample question papers as they can in the allocated time.
4.Writing Examination
For the NDA written examination, candidates are recommended to practise as many sample questions and question papers from prior years as they can. They will perform more quickly and accurately during the exam as a result. It is essential that candidates for the SSB maintain their physical fitness and enhance their social skills.
After studying the NDA 2023 syllabus, candidates should attempt the NDA sample questions to measure their level of preparation. The applicants will also be able to identify any NDA exam parts or weak areas they need to work on. Additionally, it will offer students a sense of the actual NDA exam format and the kinds of questions that will be asked.
5.Managing time
Candidates should start their NDA preparation from scratch, which means they should discard all preconceived assumptions they may have regarding the NDA and NA examinations. The end result and how to get there should be their main concerns. Candidates should begin their UPSC NDA study well before the real exam in order to cover all the topics, including the general ability test and maths.
Every exam relies heavily on time management, therefore applicants must learn how to work more effectively within the allocated time. It's up to you to figure out how to manage your time more effectively during the NDA 2023 exam because various applicants have different time management styles.
6.Maintaining Good Health
To succeed in any exam, candidates must maintain their composure, stay hydrated, and concentrate. Each individual approaches the NDA exam preparation in a unique way. Instead of imitating others, applicants should adopt the approach that works best for them. The key to passing the NDA 2023 exam is to be committed and concentrated till success.
7.Concentrate on completing the curriculum.
For the written exam, the Commission has created the NDA 2023 syllabus. Candidates should initially concentrate on finishing the NDA 2023 syllabus that has been established by the UPSC for the written exam prior to attempting sample NDA 2023 exam questions or previous year exam papers.
Choose GICE Academy
We are the Best NDA Coaching in Thane with the highest success rate.
At GICE Academy, we are committed to providing students with the best education possible through a staff faculty team that is both highly skilled and knowledgeable.
We administer assessments on a weekly or monthly basis to evaluate student development and determine whether they understand the subject's concept.
Our tutors are highly skilled for NDA exams and have at least 10 years of experience teaching. The institute's founder also takes exams every year, sharing his or her insights and offering advice to students.
Conclusion :How to crack the NDA exam 2023 in the first attempt?
If you're thinking how to crack NDA in first attempt, the solutions are provided here. Practice, Practice, and More Practice is the last thing you can do to finish up your NDA exam preparation, as "Practice is the key to success." Students build confidence and basic concept clarity via repeated practise. Try to read newspapers, English books, novels, journals, etc. on a regular basis to increase your vocabulary and communication abilities.
You only need to concentrate on your schedule, deliver the proper performance, and, most importantly, have confidence in yourself if you want to pass the NDA exam on your first try. Look no further than GICE Academy Exam Prep if you're looking for assistance and direction from a trustworthy, knowledgeable, and sincere source.
How can I prepare for the NDA Exam?
The Exam Pattern and Syllabus that are used for the exam must be fully focused on and committed to during UPSC NDA Exam preparation. All of the topics included on the syllabus must be covered through frequent practice. It is crucial to cover the most significant areas that are included in the exam, thus there are certain clever strategies that can be used to achieve the goal in less time.
 Which is the best book for NDA Preparation 2023?
NCERT Textbooks for every subject beginning in Class 9.
newest edition of Manorama Yearbook.
Arihant Publication's General Knowledge 2022.
Lucent Publications' Objective General Knowledge.
Sachchida Nand Jha's Success Series: General Knowledge.
Kalpana Rajaram's Science and Technology in India.
How much time is required for NDA Exam 2023 Preparation?
The best time to prepare an NDA is six months before the notification date.
How to prepare for the NDA Exam after 12th?
After completing grade 12, individuals of either gender may join NDA. Candidates must submit their NDA applications through the official website, indianarmy.nic.in. After submitting an application for the exam, candidates must pass a written test and a 5-day SSB (Service Selection Board) interview.
Is the NDA exam easy to crack?
The NDA exam is challenging since candidates must pass a written test with a broad syllabus, a psychological aptitude test, and an intelligence test in order to proceed. For final consideration, candidates must be physically fit.
How to do NDA Exam Preparation in 2 months?
For 60 days, strictly adhere to the suggested method. It's been tried and true.
 NDA 1 2023 exam date is April 16. NDA 2 2023 notification will be released on May 17, 2023. NDA 2 application form 2023 will be available from May 17 to June 6, 2023. NDA 2 2023 exam will be conducted on September 3, 2023.