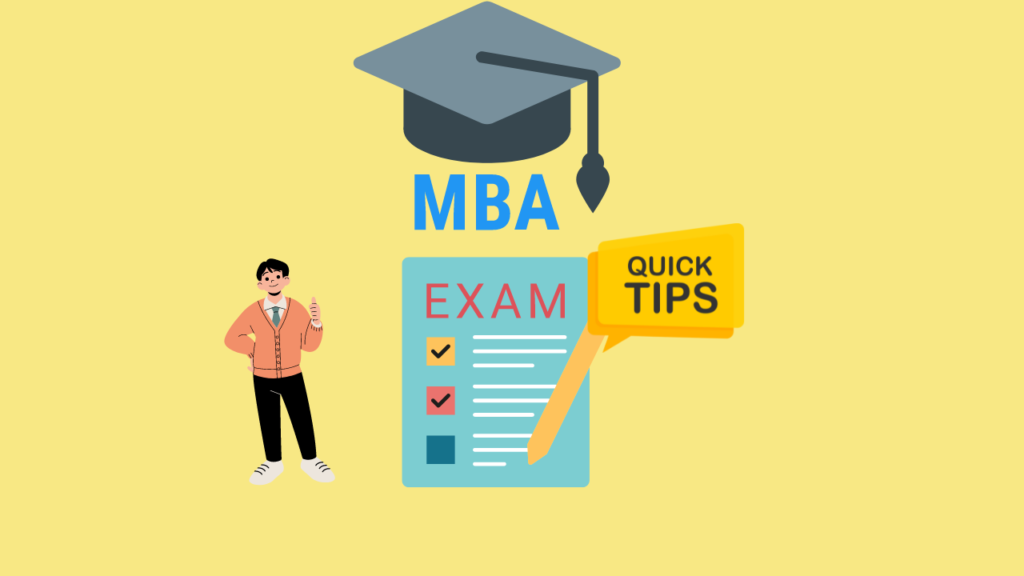 How to Prepare for MBA Entrance Exam
It is best to seek advice from more experienced individuals when it comes to MBA entrance exams preparation. And this day and age is a time of competition. In order to advance in their chosen field of study and build a profession, everyone is striving for competence. MBA programmes are chosen by those who want to use their managerial talents in their careers. One might choose from a number of entrance exam options for an MBA. All of these exams—CAT, MAT, SNAP, etc.—demand the same set of abilities. Even so, different exams have varying degrees of difficulty. Here are 7 Tips How to Prepare for MBA Entrance Exam.
1. Materials Compilation
It is a difficult undertaking to gather the necessary resources for MBA entrance exams. It is critical to collect the necessary information for an effective study. These days, old papers from earlier years are easily accessible, whether digitally or in the form of books. Joining the proper coaching centre is a better approach to go about it.
A good coaching centre not only offers a great selection of resources, but it also supports regular performance evaluations. The students' monthly and weekly mock tests assist them identify their areas of strength and weakness. Previous year's papers can help in gaining knowledge about the kinds of questions given over the years.
If you want to work for a high-paying job and do not wish to settle for less in life, an MBA from a reputable institution will help you get there. To Prepare for MBA Entrance Exam, select the Top MBA/CAT Coaching Classes in Thane. GICE Academy offers result-oriented teaching and complete MBA exam preparation.
2. Marking Difficulty Areas
It is a good idea to draw out and mark the issue areas after gathering all the necessary materials. It's simple for a student to find solutions once they identify the root causes of their problems. Some students excel in aptitude and reasoning, while others excel in the English language group. Students studying science typically do well on the mathematical portion of the exam. But they fall short of their objectives when applying logic. Therefore, it's important to identify both the regions with strength and those with difficulties. Significant portions require revision, while weaker areas require attention.
3. Working On Problem Areas
After finding out the problem areas, it is advisable to work on them. Proper guidance from teachers should be taken timely. Students can hesitate in sharing their problems with the teachers openly, during a class. So they can ask about their issues separately after the course. Students can search for answers on the internet too. Teachers are now easily accessible online at all times and locations for problem-solving. Since not every student can afford pricey coaching.
4. Making A Timetable
A good timetable can help students in successfully overcoming their challenges. Making a suitable schedule can help you achieve your goals in the allotted time. A plan serves as a blueprint for one's preparations.
5. Do not panic or overestimate yourself.
The student often becomes confused about the subjects as the MBA entrance exams date draws near. They have moments of panic, which raises their stress level. Furthermore, students often forget key terms or formulas that they have memorised.
The opposite can also occur, whereby students become overconfident as a result of rigorous practice and students confidently mark the incorrect answers. However, following the results, all dreams are shattered. They are even unaware of what occurred.
Students must therefore maintain their composure as they study for the MBA entrance exams. They may get uneasy if they are overly anxious, and they may become arrogant if they are overly calm. Studies and regular yoga practice can both improve anxiety control and lead to improved outcomes.
6. Action Plan
It is crucial to properly plan before beginning MBA entrance exams. It takes a lot of work to create a proper timetable and adhere to it consistently. But when the planning is done well, it is also simpler to accomplish the goals.
7. Seek guidance whenever necessary.
Some students are more reserved than others. They are self-conscious about asking inquiries in front of their peers. Such students also refrain from asking questions. Every time a student has a question or concern about a subject, they must approach their respective teachers for assistance. Today, it is simple to discover internet answers to any questions or queries. It is always preferable to seek support and get problems resolved whenever they emerge.
Conclusion
Students frequently experience anxiety because competitive exams are so challenging. Also, their exam performance may suffer as a result of their anxiety, which could permanently ruin their careers. Students enroll in classes after graduation to get ready for their master's entrance tests. The best colleges that offer popular subject admissions provide better marks.
The given advice (tips for How to Prepare for MBA Entrance Exam) can help students quickly reach their goals. Better grades enable students to enroll in prestigious colleges.