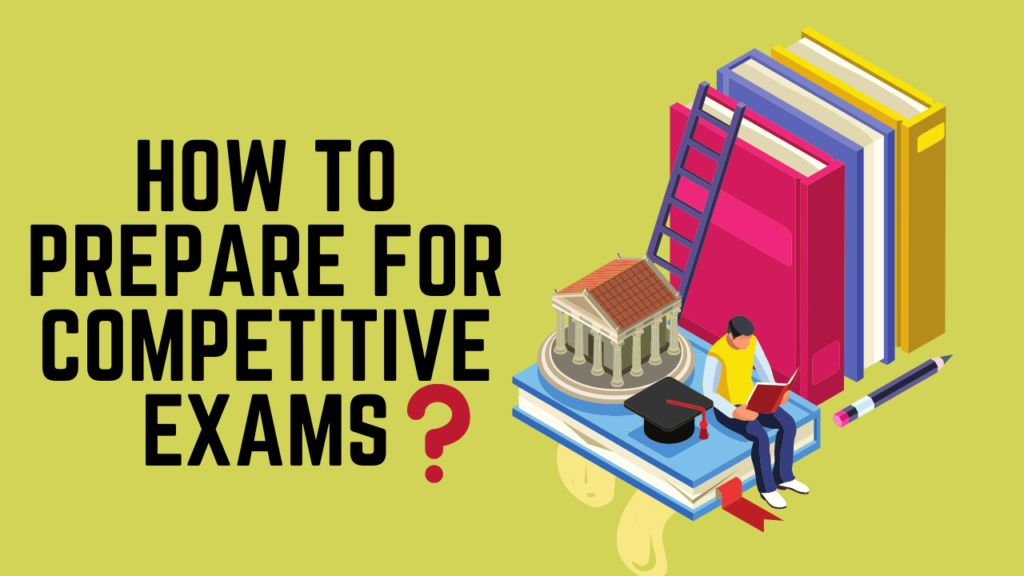 How to prepare for competitive exams

?
Are you planning to take a competitive entrance exam? Concerned about how to prepare for competitive exams. We recognise that you may be working very hard to pass these tests. However, sometimes when preparing, we tend to take things for granted and overlook some of the crucial details that may later prove to be obstacles. Competitive entrance examinations are difficult, but not impossible. You can pass the examinations if you put in the necessary amount of smart study and dedication. To pass these exams, you will need to hone a few talents.
Millions of students take difficult competitive entrance tests each year to pursue a higher education or careers. Competitive Exam preparation is the first thought that comes to mind. It is difficult to pass any admission exam in today's competitive environment because there are only a limited number of seats available. Thousands of students take the exam in order to obtain those seats, and only a few are chosen based on their qualifications and performance. As you are aware, competitive exams can be challenging for students because they must cover a large portion of the course. This may cause anxiousness and even tension when preparing.
Previously, students were rarely provided with enough facilities for competitive exam preparation, but advances in technology and the internet have alleviated this challenge to a greater extent. Students nowadays strive to do their best in order to get selected and progress toward their goals. And if you are one of the students taking the entrance exam, make sure to use the tips to prepare for competitive exams. Even the simplest tips and tricks can help you prepare for the exam better. Let's look at 10 tips and tricks for how to prepare for competitive exams so you can ace those difficult admission tests.
How to prepare for competitive exams tips and tricks
1 Understand and read about the exam.
Understanding the competitive exam that you're applying for is the first step. As each competitive exam is unique from others, it is crucial to thoroughly read the instructions and application process before submitting your application. You should be aware of the purpose of the test and how passing it would benefit your career. If you intend to prepare for the IAS, follow all procedures and create an IAS preparation plan.
2 Set Up Your Study Area
Do you have a home study space? If not, choose a more quiet place for your study session. Make sure to arrange the things you need for a better study environment, such as a cosy chair and a table, light, stationery, books, etc., in accordance with your preferences.. Everything must be set up to your liking so that you can learn with absolute concentration and enthusiasm. A tidy environment promotes optimism and personality.
3 Analyse the Syllabus
Explore and analyse the syllabus given in the application before beginning to prepare for the competitive exam. You should be aware of the syllabus and subject matter that must be studied for the exam. Organise your course material into chapters and modules. Before beginning your preparation, you should review the syllabus. Also, examine the marks assigned to each section of the syllabus. Then, according to the weightage of the syllabus, you can begin prioritising your studies for the exam.
4 Create a Timetable
Before you begin studying and practising for the competitive exam, plan and set a timetable. You can incorporate the syllabus on a daily, weekly, and monthly basis until the tests are completed. Set up a day and a time for every unit to learn and practise on a daily basis, along with any necessary brief breaks. Everyone is aware that sticking to a schedule increases one's discipline and sincerity toward their studies and their environment. Make sure that you establish realistic goals for the exam as you create your study schedule, and organise the hours for when you feel most motivated and productive in your academic pursuits.
The plan should be simple and clear to understand when you look at it. For complex information, allot more time than for basic information. In order to finish studying, make sure to closely stick to the timeframe and chapter goals for the day.
5 Get Rid of Distractions
You may become distracted by minor details while preparing. In order to prepare, you must concentrate on grasping the syllabus and the topics. Many papers are largely analytical questions. In order to improve your learning outcomes, you should concentrate on understanding them. Remembering information is way easier if you are attentive and sincere. To concentrate more on passing the exam, it's vital to remove any outside distractions. Distractions can include excessive mobile phone use, prolonged chat sessions, game playing, etc. In order to effectively prepare for the exam, it is crucial to maintain focus.
6 Adopting a Healthier Lifestyle
The most crucial aspect of existence is health. You can only attain your goals if your mental and physical health are in good shape. Make sure you get a sufficient amount of sleep each night when studying because sleep deprivation can lead to fatigue and have a poor effect on exams. The key to maintaining a happy outlook is to plan a consistent routine. You should consume plenty of water, maintain a nutritious diet, and exercise frequently. Daily exercise as well as meditation can promote better focus levels while learning. Make certain that you are not being pressured or sidetracked by anyone. Taking regular breaks throughout preparation is essential for both the mind and the body. Use the additional time for rest and meditation.
7 Stay Motivated
To pass the exam, you must have motivation and confidence. You can accomplish your goals if you have faith in yourself and keep yourself motivated. Continue to believe in your ability to pass the test and be chosen. You need to surround yourself with people who can inspire and encourage you while you're preparing. Don't worry as much about the outcome; instead, give your all throughout the preparation.
#8 Drill / Practise
Previous test papers might make a significant impact in your preparation. When exam papers are delivered, it's common to have a hard time understanding the questions because they appear so distinct and complex. You can gain insight in these situations by going back and reviewing the question papers from the prior year. It can help in knowing the types of questions that may be asked on the exam. Therefore, gather question papers from the previous five decades and try to study since you never know when a question from one of those papers will come up in the exam. It will also offer you a general notion of the issues that should be given top importance. For better preparation, there are numerous online platforms that allow you to practise exams.
9 Managing Your Time
The most crucial tip you can start using right now is to manage your time. Understanding how to manage your time will make passing these tests stress- and anxiety-free. Time management includes not only preparation but also the amount of time you allot to each exam question. There are many online test-taking resources that can aid you with practice, test-taking techniques, and time management skills for better preparation.
10 Seek guidance
If you have any questions or concerns about the exam, do not be afraid to ask for help. Sometimes you may consider working hard to obtain the proper information or notions, but this may result in a waste of time. Instead, you can talk to your professors or friends about your concerns.
GIEC Academy – Best coaching centre for competitive exams
GIEC Academy (Guidance Institute for Competitive Exam) is a reputable educational organisation that provides competitive exam coaching programmes in Mumbai for all of the main competitive government exams, including MPSC, UPSC, NDA, CDS, AFCAT, and others.
The goal of GIEC Academy is to serve as a centre of education for job candidates, particularly those who want to work successfully in the public sector. Through our Government exam coaching calsses in Mumbai, we stick to the principle of imparting quality and exceptional results in the student's endeavour to shape a bright career. Our professional teachers and engaging study material assist students in successfully navigating the parameters of success in their career prospects and achieving the opportunity to serve the country to the best of their skills and capabilities.
Along with a wide range of competitive exams, including SSC, SSC-JE, CLAT, CTET, NDA, CDS, UPSC, MPSC, AFCAT, Railway, and many others, we provide banking job career coaching sessions in Mumbai.
By providing instruction of the highest calibre, we have developed a reputation as one of the state's most reliable coaching programmes. Our extremely effective and tested training methodologies help in the achievement of our students.
We have a remarkable track record of success in preparing students for esteemed competitive exams like the MPSC, NDA, and UPSC. We began our educational adventure with the goal of empowering people through information, and it has been incredibly successful.