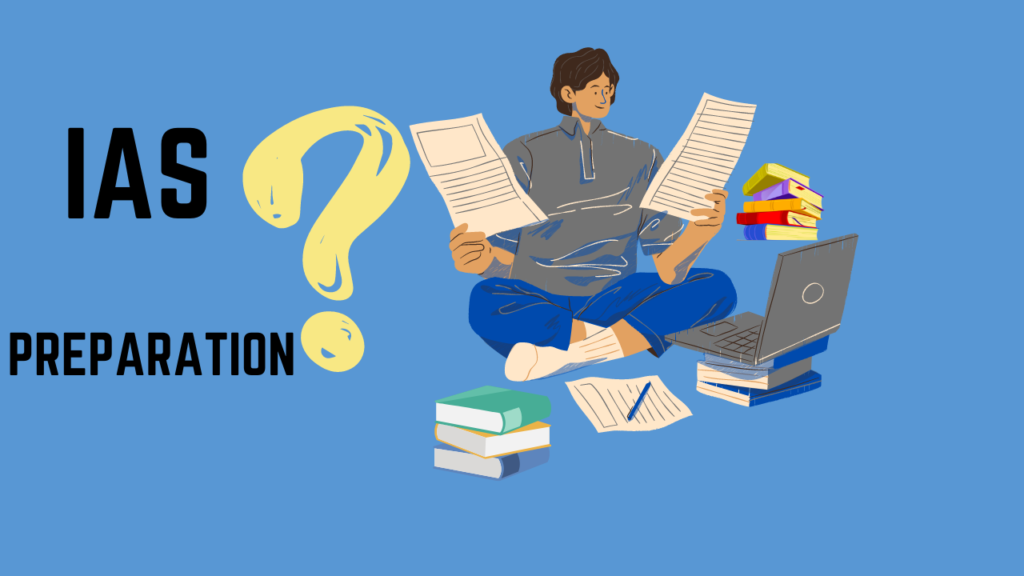 How Do I Begin My IAS Preparation?
If you're reading this, you're probably among the many IAS hopefuls who want to work for this nation as a proud public servant but aren't sure exactly how to get there.
We recognise your concern, and let us assure you that it is perfectly normal to be unsure about where to begin your IAS preparation. You undoubtedly have a hundred queries, ranging from when to start studying for one of the hardest exams to how to ace the personal interview.
This article  will walk you through the best IAS preparation strategy from start to finish!
We must first learn more about the fundamentals of this exam in order to fully understand the preparation requirements for your exam.
How to Start IAS Preparation?
The following are some of the most crucial things to remember if you want to have your path featured in IAS success tales.
An Essential Component of the IAS Preparation Strategy is Understanding the Exam Pattern.
There are three sections to the curriculum heavy exam paper.
The Prelims
The Mains
The Interview
Without passing the previous step, you cannot move on to the next.
Each step will be more difficult than the one before.
The candidate must possess a solid understanding of a wide range of subjects for the first two rounds.
During the first two levels, the student is expected to demonstrate their conceptual and diagnostic abilities in a condensed amount of time.
Even while the final round, also known as the personal interview round, does not assess your writing skills, it still necessitates the same level of awareness and expertise as the earlier phases.
Keep track of the dates and syllabus.
Your ability to adhere as closely as possible to UPSC syllabus as whowell as the scheduled exam dates will determine how successful you are.
The timing of the exam will typically be as follows:
September/October for mains
April to February for interview
Preliminary exam dates are moved up in 2021 as a result of the nationwide shutdown and Corona Virus epidemic.
Not to terrify you, but the syllabus is quite extensive. Start your preparations at least a year before your exam date, according to experts.
Analyse the competition with reality.
It also serves as one of the main qualifying tests in the nation in addition to being the hardest exam. Like you, thousands of candidates are competing for the prestigious job of an Indian civil servant.
I'll give you a rough idea of the scenario for this important exam:
Registration; at least 10 lakh candidates register each year.
The prelims applicants, who make up an annual average of 4.5 lakhs.
Approximately 15000 people pass the first stage of the application process each year.
Candidates who have passed the mains – approximately 3000 per year.
Each year, roughly 1000 candidates are included in the rank list after the interview.
Since 49.5% of the seats are reserved, it's possible that if you fall under the general category, you'll need to get into the top 50% to make the final rank list.
How to prepare for UPSC?
There are just two methods for studying for UPSC exams or IAS exams:
Join a coaching programme
self study
IAS Preparation Self-Study Plan
With IAS Preparation Self-Study approach, you must create your own plan and follow it through with discipline, self-motivation, and determination.
Thanks to the internet availability of certain excellent coaching institutes, the method has seen increased acceptability and high success rates.
You have the highest chance of realising your IAS aspirations through self-study through online coaching institutes.
Advantages of Online Coaching and Self-Study:
These institutions offer training resources like films, coaching materials, and online notes.
The benefit of online coaching is that there are no time restrictions. There is no set schedule to follow, unlike with offline classes. The candidate can opt to study whenever they have free time.
All individuals who are seeking employment who are students or working professionals would particularly benefit from this IAS preparation strategy.
You don't need to be concerned about being at a given location. You can learn from wherever you want, just like you may choose the time.
IAS Classroom Coaching
The alternative approach is to enroll in a conventional coaching programme for IAS preparation
Sadly, despite all the buzz it has received in India, it does not meet the needs of specific pupils.
Common sense alone may tell us that it will be challenging to teach to each student's unique needs in a classroom of more than 100 pupils.
Some learners might be afraid to express their uncertainties.
If you're a working professional or student, the time restriction will cause you to miss a lot of classes.
For many people, it can be challenging to get to the location of your coaching class.
GICE Academy: Smart Study OR Self Study?- We've got you covered!
Guidance Institute for Competitve Exam is a reputable learning institution that has been trusted by toppers. Our approaches and methods are unique. We emphasise clever work that helps students to pass the UPSC CSE more quickly.
GICE Academy believes that no student should be excluded from the UPSC competition because of financial limitations.
GICE Academy provides skilled UPSC Coaching and excellent features at a fraction of the cost of several traditional coaching institutes.
Additionally, GICE Academy provides a great deal of free resources for self-study in addition to our premium tools that will support your smart study.
How Much Does IAS Preparation Cost?
You could lose a lot of money by making a bad choice. You will not only lose a lot of money, but also valuable time.
If we look at the average, a training institute will set you back up to a respectable 1.5 lakhs, for just your prelims and mains preparation.
You will pay more for preparation for your elective topic.
Unless you are a local, you will likely spend a significant amount of money each year on housing and food in addition to the tuition.
Online coaching programmes, in contrast, will provide you with all the advantages of a conventional tutorial in addition to some much-needed extra advantages. All of that for an extremely low cost of less than 10,000.
Can You Pass the IAS Exam Without Coaching?
Yes. Undoubtedly. Many people have done so.
You can do it as well. All you require is the following:
the strategy for IAS preparation.
the correct approach.
proper time management abilities.
books that are helpful for UPSC preparation.
A reputable online IAS coaching centre can provide you access to clever sample test series and a professional mentor for less than INR 10,000.
In India, becoming an IAS Officer is the best way to go.
We both believe that the kind of esteem and power given to IAS officers is something we should be exceedingly proud of. However, you need to quit making it the centre of your existence. Tell yourself that you'll work hard to attain it and that it's okay if you can't.
Conclusion
Hope, this article has everything you were searching for and clarifies all of your questions on where to begin your IAS preparation and How to prepare for competitive exams