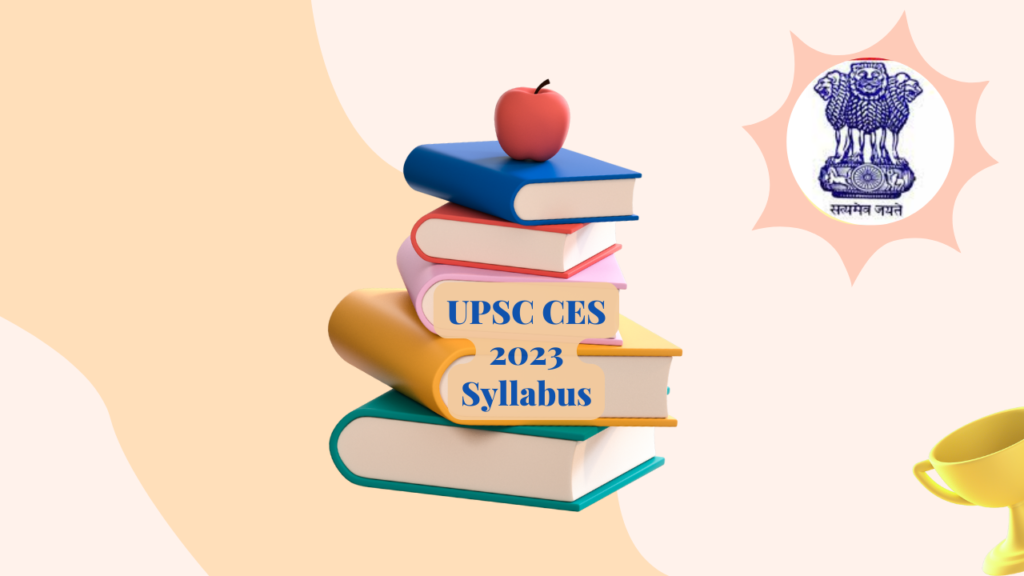 UPSC Civil Services Exam 2023 Syllabus
The UPSC Civil Services Examination is drawing the young generation. Following the Covid era, an increasing number of individuals began to apply for and take this exam.
Everyone should be familiar with the UPSC IAS Syllabus 2023 before entering this intense competition.
First read through the UPSC IAS Exam Syllabus.
Plan and gather the best study materials for the UPSC preliminary and main exams.
Plan how you will finish this syllabus in a certain amount of time. Revision is key, so do it often.
Stage 1: Preliminary UPSC exam
There are two sections to the preliminary examination:
a) General Studies
| | | | |
| --- | --- | --- | --- |
| Paper | Subjects | Total Marks | Duration |
| I | General Studies(GS) | 200 | 2 hours (9:30 AMto 11:30 AM) |
| II | CSAT | 200 | 2 hours (2:30 PM to4:30 PM) |
b ) Civil Services Aptitude Test (CSAT)
Generally speaking, the Civil Services (Preliminary) Examination comprises two objective-type papers, each worth 200 points (for a total of 400 points), and lasting two hours. An applicant must attempt both exams in order to be eligible for the Civil Services Mains.
Additionally, the CSAT paper has 80 questions, whereas the UPSC General Studies (GS) paper has 100 questions. For incorrect responses, 1/3 of the total points for that question are deducted from the final score for both papers.
This is further demonstrated by the fact that each well solved GS question will receive two points. The total would be reduced by 0.66 marks for each question that was marked incorrectly.
Similar to the CSAT paper, which consists of 80 questions worth 200 total points, each correctly answered CSAT question is worth 2.5 points, while incorrectly marked questions result in a penalty of 0.833 points per incorrect response, which will be subtracted from the final score.
No marks will be deducted for questions that have not been attempted.
The two IAS preliminary exams papers are covered in detail below:
General Studies (Typically carried out between 9:30 am and 11:30 am)
The preliminary examination's first paper is the General Studies test. This exam is designed to evaluate a candidate's general knowledge of a variety of topics, including Indian politics, geography, history, economics, technology and science, the environment and ecology, international relations, and related UPSC current affairs.
CSAT: Civil Services Aptitude Test (Generally conducted between 2:30 PM to 04:30 PM)
In addition to "Reading Comprehension" and the occasional "Decision Making" questions, this UPSC Prelims syllabus for CSAT aims to evaluate the candidate's capacity for handling "Reasoning and Analytical" problems.
Negative marks are typically not applied to questions that are based on "Decision Making."
Only candidates who pass the preliminary exam will advance to the other levels of the test.
The Prelims marks will not be added for calculating the final rank list.
UPSC IAS Syllabus 2023 Civil Services Syllabus for Prelims
Syllabus for the GS Exam (Prelims Paper I)
important current events on a national and international level.
Indian history and the Indian National Movement
Physical, social, and economic geography of India and the rest of the world.
Constitution, political system, panchayati raj, public policy, rights issues, etc. of Indian politics and governance.
Economic and social development – poverty, inclusion, demographics, social sector efforts, etc.
Climate change, biodiversity, and environmental ecology are all general topics that don't require subject specialisation.
Basic Science
Syllabus for the CSAT Exam (Prelims Paper II)
Comprehension
Interpersonal abilities, particularly communication abilities
logical thinking and reasoning
Making decisions and solving problems
general cognitive capacity
Simple mathematics (numbers and their relations, orders of magnitude, etc.) (Class X level), interpretation of data (charts, graphs, tables, data sufficiency etc. – Class X level)
Stage 2: UPSC Mains Exam (1750 Marks)
The second phase of the Civil Services Exam is the Mains examination. Candidates wouldn't be able to take the IAS Mains until they had successfully passed the prelims exam.
The Mains exam examines a candidate's depth of academic competence and speed at which he or she can articulate their understanding in response to a question's criteria.
Nine papers make up the UPSC Mains exam, of which two are qualifying papers at 300 points each.
The following are the two qualifying papers:
Any Indian Language
English Language Paper
Only those candidates' essay, general studies, and optional subject papers that meet the minimum qualifying threshold of 25% on both language exams will be taken into consideration for review.
The marks a candidate receives will not be taken into account or counted if they fail to pass these language papers.
Structure of the language papers:
The types of questions asked are –
Essay – 100 marks
Reading comprehension – 60 marks
Precis Writing – 60 marks
Translation:
English to compulsory language (e.g. Hindi) – 20 marks
Compulsory language to English – 20 marks
Grammar and basic language usage – 40 marks
The rest of the seven papers can be written in any of the languages mentioned under the Eighth Schedule of the Constitution of India or in English.
UPSC IAS Syllabus 2023
| | | |
| --- | --- | --- |
| Paper | Subject | Marks |
| Paper – I | Essay (can be written in the medium of the candidate's choice) | 250 |
| Paper – II | General Studies – I (Indian Heritage & Culture, History & Geographyof the World & Society) | 250 |
| Paper – III | General Studies – II (Governance, Constitution, Polity, Social Justice &International Relations) | 250 |
| Paper – IV | General Studies – III (Technology, Economic Development,Biodiversity, Security & Disaster Management) | 250 |
| Paper – V | General Studies – IV (Ethics, Integrity & Aptitude) | 250 |
| Paper – VI | Optional Subject – Paper I | 250 |
| Paper – VII | Optional Subject – Paper II | 25 |
There are 48 optional subjects listed in the UPSC Mains syllabus, including literature in many languages. From the list of subjects below, candidates must select one of the "Optional Subjects":
IAS Mains Civil Services Exam Syllabus Optional Subjects:
Agriculture
Animal Husbandry & Veterinary Science
Anthropology
Botany
Chemistry
Civil Engineering
Commerce & Accountancy
Economics
Electrical Engineering
Geography
Geology
History
Law
Management
Mathematics
Mechanical Engineering
Medical Science
Philosophy
Physics
Political Science & International Relations
Psychology
Public Administration
Sociology
Statistics
Gujarati (Literature)
Hindi (Literature)
IAS Syllabus – Kannada (Literature)
IAS Syllabus – Kashmiri (Literature)
IAS Syllabus – Konkani (Literature)
IAS Syllabus – Maithili (Literature)
IAS Syllabus – Malayalam (Literature)
IAS Syllabus – Manipuri (Literature)
IAS Syllabus – Marathi (Literature)
IAS Syllabus – Nepali (Literature)
IAS Syllabus – Odia (Literature)
IAS Syllabus – Punjabi (Literature)
IAS Syllabus – Sanskrit (Literature)
IAS Syllabus – Santhali (Literature)
IAS Syllabus – Sindhi (Literature)
IAS Syllabus – Tamil (Literature)
IAS Syllabus – Telugu (Literature)
IAS Syllabus – English (Literature)
IAS Syllabus – Urdu (Literature)
Stage 3: IAS Interview/UPSC Personality Test (275 Marks)
The "Personality Test/Interview" is required of candidates who pass the UPSC Mains Exam. A Board chosen by the UPSC will interview these candidates.
Typically, there are more than three times as many applicants summoned for the personality test as there are open positions within a given year.
The goal of the interview is for a panel of knowledgeable and objective observers to evaluate the candidate's overall suitability for a job in the civil services.
The purpose of the interview is to learn more about the applicant's mental capabilities and analytical skills.
The written examination will have a maximum score of 1750 points, and the interview will be worth 275 points. This adds up to a Grand Total of 2025 Marks, which will serve as the foundation for creating the final merit list.
UPSC civil services Exam ? GICE Academy has got your back.
The Civil Services Examination is one of the hardest tests to pass, and recently, many students have chosen to work in government. As a result of this growing tendency, more IAS/UPSC Coaching Classes in Thane have emerged, offering coaching and assisting candidates in reaching their goals.
Civil Service aspirants actively seeking for the best IAS coaching centres in Kalyan.
GICE Academy is the best IAS coaching institute Thane with a limited number of students in each batch.
GICE Academy has recognized as the Best Civil Services Coaching Institute in Dombivli as a result of our institution's consistent efforts
FAQ's
What is the syllabus for UPSC 2023 PDF?
Important international and national current affairs. Indian history and the Indian National Movement Physical, social, and economic geography of India and the rest of the world. Constitution, political system, panchayati raj, government policy, rights laws, etc. of Indian politics and governance.
How can I prepare for IAS 2023?
For both the Prelims and Main exams, practise many more solved papers, UPSC IAS civil services sample question papers, and mock practise exams as you can. Revision is necessary for every topic and subject (daily, weekly, and monthly). Take brief notes on each subject that you examine, with headers for each theme and subtopic.
When will IAS form come in 2023?
On February 1, 2023, UPSC IAS 2023 notice will be made public. On February 1, 2023, the UPSC IAS application procedure for 2023 will also start. The deadline to submit an application for the UPSC IAS 2023 is February 21, 2023. For more information you can visit the UPSC website 
Can I give the UPSC exam in 2023?
According to UPSC's eligibility requirements, you must be at least 21 years old to take the exam.