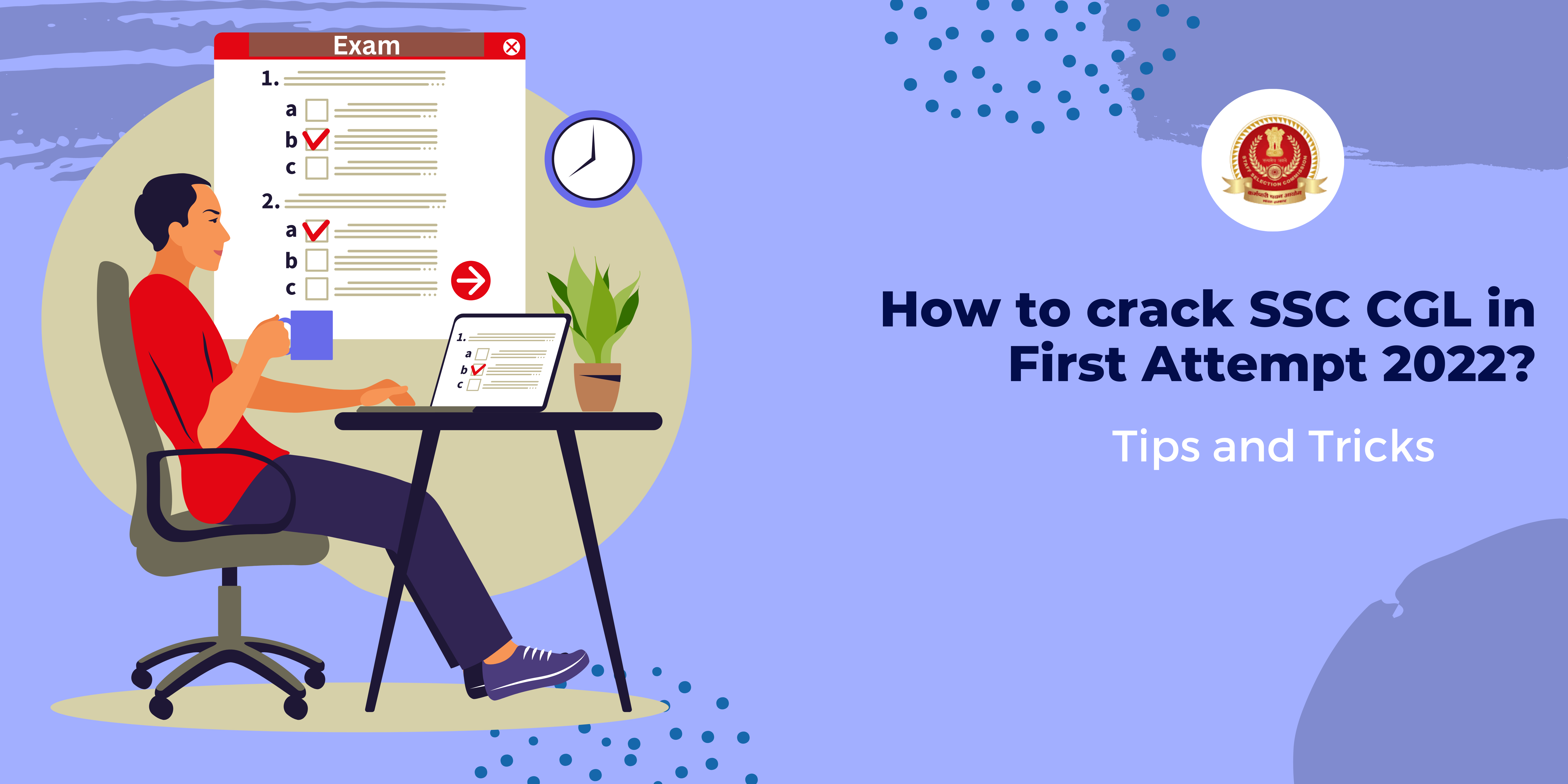 How to crack SSC CGL in first attempt 2022
How to Crack SSC CGL in first attempt: This is a question that disturbs many students and gives them a sense of unease. The solution to this question is hidden inside your heart and mind, and it is based on how much effort and commitment you are willing to put in your preparation to pass the SSC CGL exam on your first try.
SSC CGL 2022 Tier 1 Exam Date has also been announced.
You can use the advice in this post to help you pass the SSC CGL 2022 exam in the first attempt. You need to plan your strategy and commit to it if you want to succeed in this exam.
You should also commit yourself to your studies and keep an optimistic outlook that you will pass SSC CGL 2022 in the first attempt, no matter what.
First, let's go over the SSC CGL exam format before we discuss how to pass the exam on your very first attempt.
SSC CGL Tier 1 Exam format
Sections
No. of Questions
Total Marks
Time
General Intelligence and Reasoning
25
50





60 minutes
General Awareness
25
50
Quantitative Aptitude
25
50
English Comprehension
25
50
Total
100
200
How to Crack SSC CGL in First Attempt?
How to crack SSC CGL in first attempt is the first question that comes to mind when a candidate begins to study for the test. The answer to this issue is very simple and clear: anyone can pass SSC CGL in the first attempt with a detailed understanding of the SSC CGL Syllabus, the right preparation strategic plan, great reference books, and adequate practice. We're going to give you all some advice and techniques in this article that will help you to ace the SSC CGL Exam 2022 with ease.
Is SSC CGL easy to pass?
Candidates may get the impression from this that there is fierce competition among exam candidates. The reality, however, is the exact reverse. You Crack SSC CGL 2022 in First Attempt
with the right coaching and easy access to the appropriate resources. It is a straightforward exam that requires a lot of preparation.
Tips to Crack SSC CGL 2022 in First Attempt
We promise that the tips and strategies provided below will be very useful for you when taking the coming SSC CGL 2022 exam if your goal is to pass the SSC CGL 2022 in the first attempt.
Become familiar with the entire syllabus.
Read through the SSC CGL Syllabus first if you wish to crack SSC CGL exam on your first attempt. After reading the syllabus, consider the key points that pertain to each subject and carry the most weight in the test. You can begin your preparation by covering the most significant topics in each subject first, followed by the remaining topics.
Study Previous Year's Question Papers
Begin solving SSC CGL prior year papers in addition to subject-wise preparation. You can have a good idea of the questions to expect, the exam's difficulty level, and the key themes for each section by attempting the paper from the previous year. SSC continues to follow the same pattern that it has in prior years.
Create a study schedule that suits your needs.
Make an SSC CGL study schedule that details the topics and sections you must finish by a certain time and day.
Your study strategy should include both short- and long-term objectives.
Set priority for everyday tasks and chapters.
Include one mock exam or old paper in your study schedule.
Choose the Correct Study Resources and Materials
Selecting the appropriate study tools and materials is crucial since they will enable you to focus on the exam-relevant subjects.
The Secret to Success Is the Mock Exam
You are aware that it takes athletes ten to fifteen years to prepare for a performance that lasts 15 seconds. To prepare for the final 60 minutes of exam performance, you must therefore complete at least ten to fifteen mock exams. A mock exam will provide you with ample practice for the final exam, and you will feel more at ease dealing with exam pressure.
Examine Your Performance Using Mock Exams
Examine your performance after taking the SSC CGL mock test, and make a list of the 3 things you did very well and the 3 things you need to work on before the next mock exam.
As you are aware, the SSC CGL is a competitive exam, thus your performance will be measured in relation to that of the other applicants. This indicates that in this tough exam, the candidate who is focusing on improving his or her weak spots will succeed.
Therefore, we advise investing the most of your effort in the area that is weakest. Spend enough time practising questions from the subjects you believe to be weak. To improve, you can take subject-wise quizzes.
Many times while preparing, you could feel tense, bored, or lazy. In spite of the stress, you must continue. You should practise the following stress-reduction practises to cope with stress:
Practice yoga, meditation, or a short workout.
meditation and yoga
developing a hobby or enjoying music
If you don't revise, your brain will eventually become useless and function like a tea strainer because it won't be able to remember anything. After finishing a topic, you should constantly go over the important dates, topics, and formulas. Your short-term memory will become long-term with regular revision.
Lack of fuel will cause motivation to go out, much like a fire. Daily positive thought-feeding is essential for maintaining motivation; else, demotivation would set in. Every time you lose inspiration, listen to upbeat music, read a success story, consult your friends or parents, and start over.
How to Improve Your SSC CGL 2022 Exam Score?
If you wish to Crack SSC CGL in first attempt, follow these crucial tips that we have provided:
Knowing the SSC CGL cut off from the prior year will help you decide what goal score to aim for in your exam.
Even though you take a mock exam, you still need to put in a little extra work by reading the books every day for the English section.
You must also answer the SSC CGL Synonyms and Antonyms Questions.
Don't worry too much about improving your reasoning by completing a mock exam; it will happen on its own.
As previously said, choose any mock exam once you have finished your syllabus, and then take a test every day.
Make an effort to finish the practice set in 60 minutes (to get a real feel of the exam). Your speed will increase and you'll be able to track your progress in this method. It is simple to identify the subjects that require more work from you.
Write down the topics, questions, and solutions from your mock exams that you find challenging, then study that notebook every day.
Be sure to pay attention to Current Affairs (CA), since its weight has increased dramatically in recent years.
As the SSC repeats the questions, there is a possibility that you may receive the same question, therefore practise as much as you can.
Success cannot simply happen, and rewards don't manifest overnight. Payoffs require effort, just as you can't reap without first sowing. Always keep in mind that success only has strict, unbending rules. So, put up your best effort and work hard.
Start preparing for SSC CGL 2022 With Our Fresh Batch
GICE Academy – Where young minds thrive
Every year, thousands of individuals attempt the SSC competitive test, one of the most popular competitive exams in India, in order to get into government jobs. According to the need, there are thousands of open positions for everyone. One of the most difficult competitive tests in India is the SSC exam, so aspirants must study in advance to succeed.
The GICE Academy faculty encourages and supports their students by offering a better learning environment. We offer thorough coaching and aid our students in advancing their careers to the level you are aiming for.
FAQ's
Which section should I attempt first in SSC CGL?
start with the simplest part! For instance, you could start by taking the SSC CGL General Awareness Section. You only have 10 minutes to finish this section. Since there is nothing quite like responding to the mandatory 25 questions.
Will SSC CGL be held in 2022?
SSC CGL exam date 2022: The SSC CGL Tier 1 test for 2022 will take place from December 1 through December 13, 2022. SSC 2022 CGL: The first stage of the Combined Graduate Level Examination (CGL) 2022, which was announced on Monday by the Staff Selection Commission (SSC), will take place in December of that year. The test will be given between December 1 and December 13, 2022, it stated.
How many hours is enough for SSC CGL?
A candidate must invest at least 16 hours per day studying and set aside equal amounts of time for each topic in order to pass the SSC exam after 30 days of preparation.